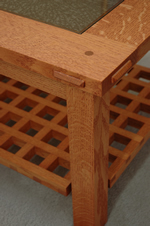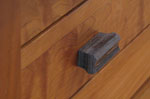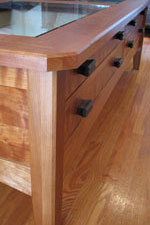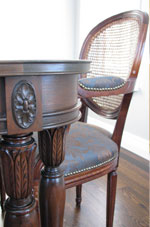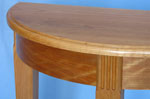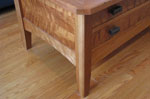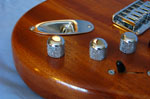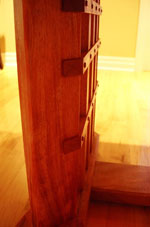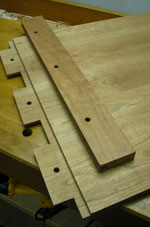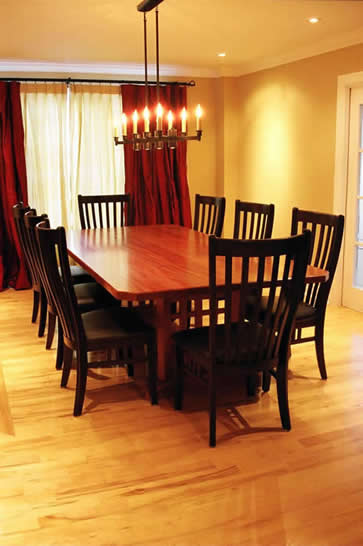 The Goal of a Craftsman
Fine furniture designing and crafting is somewhat of a dying art these days.  It wasn't always that way.  In years gone by, the Master craftsman wasn't as much of a rarity as he is today.  People may not have had the money to buy all the things that we have today, but when they did buy something they wanted quality that would last for a long time.  There wasn't the kind of attitude that seems to prevail today, which is to say "Oh well, if it breaks I'll just buy another one later".  People bought the best they could afford, expecting each piece of furniture to last for the rest of their lives and beyond, passed onto their children and grandchildren.
This is where the work of a craftsman like Hendrik Varju comes into play.  Let's hear what Hendrik has to say about his work and its meaning:
One of the things I've always acknowledged is that not everyone has the income to afford the best.  So for a large proportion of society, less expensive utilitarian furniture is the norm and practically suited.  However, even if you cannot afford custom, finely crafted work, you should at least aim to purchase furniture that will last.  We spend a lot of time talking about precious resources, our garbage problem, credit card crisis, and so on.  Yet every day I see people buying furniture that will not last a year, nevermind a lifetime.  Not all furniture is, perhaps, meant to last for centuries or even decades, nor does it need to.  But replacing the same dining room table or bed every 3 to 5 years due to poor quality just doesn't make any sense.  Resources are wasted, landfills are overburdened and money is wasted.  One finely crafted piece can easily take the place of 20 poorly built ones if they only last a few years each.  Think of the resources wasted in the latter case, and the impact on the environment.
We live in a fast-paced world where cell phones, pagers and emails demand our attention all of the time.  That means that we have a shortened attention span.  We expect instant gratification.  We can't believe that we may have to wait a number of months or even a year to have that special custom piece built for us.  We have become a society that uses cheaply made products made with inferior materials in a far away country where poor people are exploited for their cheap labour.  Why is this so?  So that those of us lucky enough to live in the more prosperous nations can have a myriad of products that we don't really need and don't even last very long?  Most of the "things" that we buy are devoid of any real beauty or meaning.
Here at Passion for Wood, the name actually means something.  My passion is for real wood and real joinery, not particle board, melamine coatings, brad nails and staples.  I understand the material and where it comes from.  I understand my role in turning precious trees into heirloom quality furniture that will be enjoyed for decades, not just a few months or years.  I understand design and proportion, textures, grain patterns, colours and finishes.  I understand a craft that is at the very center of what it means to work with one's hands.
When you walk through your home and look at the items that have meaning to you, what do you see?  You probably have a favourite piece of furniture that was passed down from your parents or grandparents.  It has deep emotional meaning.  You enjoy both the beauty of the object as well as its practical use.  You see a nuance here, a subtlety there, a finely crafted drawer, a nicely proportioned door — the details are everything.  Do you feel this way about that melamine-coated table you purchased at a discount retailer a few years ago?  Do you feel any emotional attachment to that plastic item?  Or do you feel greater attachment, like me, to the more natural products in our homes, such as wood?
I recognize that not everyone can afford custom built, finely crafted furniture for every room in their home.  However, there is a time and a place for everything.  A master bedroom presents a wonderful opportunity to surround yourself with something really special, such as a bed, night tables, a dresser or vanity with mirror.  To me, a bed is a very special place.  We spend a third of our lives in our beds each night.  We use our beds to rest, to recover from illness and even to conceive our children!  What better place can you think of to invest in a special quality piece of furniture?
Dining rooms and living rooms are other areas where I think a special one-of-a-kind piece makes a statement.  We use dining rooms and living rooms to entertain our guests, hold dinner parties, and celebrate special events and holidays.  Kitchens are also special areas to me.  In a lot of cultures, the kitchen is the heart of the home where people love to gather and discuss their day while indulging in some nourishment.  These sorts of traditions are some of the most important and meaningful parts of our lives.
To sum up, I feel that custom crafted fine furniture, specifically designed for you, will reward you in ways you never expected.  Each piece I design and build, with my own hands, has both a function and form.  In other words, it has a practical benefit while also being a work of art.  "Practical art" is what I like to call it.  You will see your own design ideas brought to life.  You will sense the "life" in each piece, as I transform a living tree into something to be enjoyed in your home.  Each time you study the piece closely, you'll notice something new that you hadn't seen before — a small chamfer here, a reveal or shadow there, or some other small detail you had not ever noticed.  A feast for the eyes and your other senses too.  Fine furniture begs to be not just seen, but caressed.  It is an "experience".
Furniture built by a single designer-maker who invested his own soul in the process is a very special thing indeed.  Furniture mass produced in a far-away factory in a cookie-cutter fashion will never compare to the satisfaction of a piece specifically designed and built for you.  The piece takes on an importance and meaning that you can't compare to anything else. 
If you would like to book an initial design consultation to go over your options for a custom made piece, I would love to hear from you.