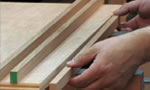 Chapter 3
Solid Wood Edging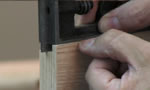 Chapter 5
Cutting Panels to Final Size
and Back Panel Rabbets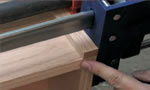 Chapter 7
Dry Fitting, Cross Rails
and Other Joinery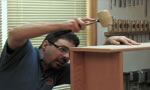 Chapter 9
Final Glue-up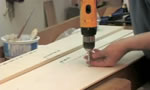 Chapter 11
Making and Attaching
Plywood Parts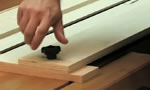 Chapter 13
Attaching Solid Wood
Components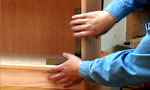 Thoughts on
Woodworking
Part 2
Checking for Square
Instructional Woodworking
DVDs
Working with Plywood
Author: Hendrik Varju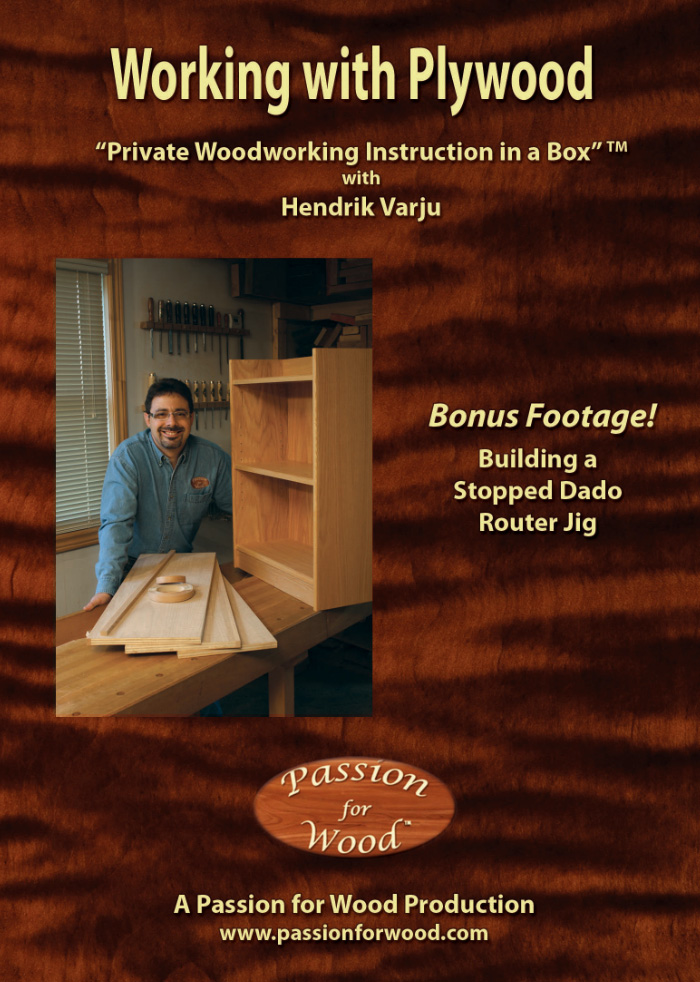 Hendrik Varju / Passion for Wood / September 2009
ISBN: 978-0-9781432-3-7
11 hours, 18 minutes on 5 DVDs
Price: Cdn. $94.95 + applicable taxes
+ shipping and handling
Ontario residents pay 13% hst. Canadian residents outside of Ontario pay hst at their own province's rate, or 5% gst if in a non-participating province. Residents outside of Canada pay no tax.

To view a clip of this DVD click the play button above.
The above video clip has been reduced in quality for online viewing. The real DVD product has a much higher resolution.


To download a PDF of this production's
Table of Contents click here.
This document will make it easier for you to navigate the video.
The Table of Contents is already included inside the DVD case, but you can download a copy here if you've misplaced it.
To read reviews and testimonials about Hendrik's DVDs, click here.
On the heels of two unexpectedly detailed DVDs called "Jointer and Planer Secrets" and "Revelations on Table Saw Set-up & Safety", this new production has left the comfort of solid wood to venture out into the more difficult world of working with plywood.  "Working with Plywood" is another  showstopper, with a running time of over 11 hours spread over 5 DVDs.  Once again, this is not your "ordinary" DVD, but is a detailed step-by-step course on working with plywood.  While the assumption might be that working with plywood is far easier because you just buy it and cut it into panels, nothing could be further from the truth.  Plywood faced with high quality hardwood veneers, usually only 1/40th of an inch thick, requires special handling from cutting techniques, applying solid wood edging, iron-on edge banding and so on.
The DVD starts with the planning of a simple bookcase project, including permanent shelves, adjustable shelves, support rails and so on.  The details are explained by drawing a three dimensional sketch, including the dimensions of all parts, set-backs, joinery decisions and so on.  This includes a review of how to plan your plywood panel selections from a full sheet of plywood, taking both dimensions and grain patterns into account.  Then accurate ripping and crosscutting of veneered materials is covered as well.
From there, Hendrik shows you how to make solid wood edging material, how to glue it onto plywood edges and then trim it to perfection with hand plane and card scraper.  He also covers hand-held routing of a decorative profile on this material later on in the project.  For those who prefer the speed and ease of iron-on edge banding, Hendrik also teaches you how to apply it and trim it cleanly.
As the hours pass by, Hendrik moves on to final panel sizing and cutting rabbets on the table saw for back panels.  He fits permanent shelves to the gables using stopped dados cut with an ingenious router jig and he even shows you how to notch out the front corners of the shelves.  From there, you see how cross rails are made and fitted to the case using dowel joinery.  Then shelf support holes are drilled, adjustable shelves made and the back panel fitted.
The main video footage culminates in a real-time (no editing) glue-up of the bookcase project, complete with dowel joinery, dado joinery, permanent shelves and multiple cross-rails, all coming together in one angst-filled moment!  Woodworking video footage doesn't get any better than this.  It is real, it is rushed, it is nail-biting and if you don't feel the tension in the air you will when you attempt your own glue-up in future.  The glue-up sequence ends about 13 minutes later, perspiration dripping from Hendrik's brow as he debriefs you on how the glue-up went and why.  It is so satisfying to see a glue-up like this go together with careful planning and precision and not a single assistant on hand.
To make this DVD even more valuable to the viewer, over 2 hours of bonus footage takes you step-by-step through the process of building Hendrik's stopped dado router jig.  He covers the plywood parts, the hardware you'll need to buy and every step required in building this jig.  So the main part of the video shows you how to use the jig while the bonus footage ensures you can have one of your own with the proper steps.  The jig serves as a useful workshop project for you to tackle before moving on to build your own bookcase, entertainment unit or whatever other kind of case piece you decide to tackle.
As in Hendrik's previous productions, he demonstrates every technique and procedure in painstaking detail, building on the skills already taught in "Jointer and Planer Secrets" and "Revelations".
In this video, you will learn:
how to plan a plywood project like a basic bookcase
about plywood grading and why it pays to buy higher priced veneered sheet stock
how to rip plywood panels on the table saw and achieve higher than average accuracy using a super long fence jig
how to crosscut plywood panels accurately and without excessive chipping of the veneers
how to choose the right table saw blade for crosscutting and ripping veneer core plywood, as well as those delicate face veneers
how to make, apply and trim solid wood edging, including gluing techniques and using hand planes to trim
how to cut, apply and trim iron-on edge banding
how to cut rabbets on the table saw to fit back panels to the casework
how to make accurate stopped dados with a hand-held router and get around the problem of inconsistent plywood shelf thicknesses
how to notch out the corners of the permanent shelves so that they fit around the stopped dados cut in the gables
how to cut and fit cross rails, including dowel joinery
how to drill accurate shelf support holes using another simple workshop jig
how to tackle a difficult glue-up by yourself, including planning, gluing dado joints and dowel joints, proper placement of clamps, etc.
how to cut and install adjustable shelves and the back panel
how to build a stopped dado router jig, with complete step-by-step, real-time instructions
How does this video differ from others you may have seen? First of all, it takes you through all of the steps in real time. It isn't heavily edited to just show you the "gist" of each step. This explains the incredible length of Hendrik's DVDs compared to the usual 45 to 60 minute production. Too many woodworking videos and television shows today edit them down too much, leaving the more difficult details out. For those who really want to move forward with their woodworking skills in a more serious way, the details are everything.
This video doesn't just cover the "what" and "how", but also the "why". And it goes way beyond the call of duty, constantly reinforcing safety issues and details that just aren't taught at this level anywhere. Hendrik covers all of the high-level details that he can normally convey only in person. This is truly personal coaching conveyed in a DVD format.
As a 5-DVD boxed set running at over 11 hours in total, "Working with Plywood" is sure to become the leading instructional woodworking DVD in this area. As the trademarked name says, this is "Private Woodworking Instruction in a Box" and nothing short of Hendrik's in-shop seminars and courses even comes close.
To order your DVD today, click below.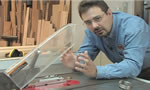 Safety Discussion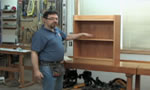 Chapter 1
Planning Your Project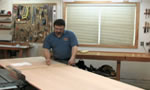 Chapter 2
Choosing and
Roughing Out Parts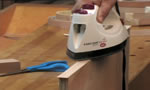 Chapter 4
Iron-on Edge Banding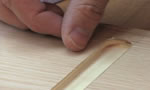 Chapter 6
Stopped Dados and Notched
Corners for Shelves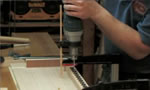 Chapter 8
Drilling Shelf Support Holes
and Finishing Touches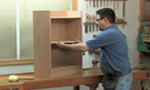 Chapter 10
Adjustable Shelves
and Back Panel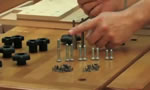 Chapter 12
Installing the Hardware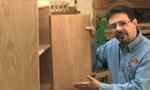 Thoughts on
Woodworking
Part 1
Solid Wood vs. Plywood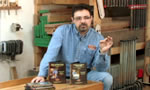 Thoughts on
Woodworking
Part 3
Why So Much Detail?