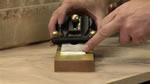 Chapter 3
Achieving York Pitch
and Beyond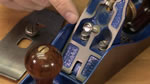 Chapter 5
Setting Up a
Bevel-Down Plane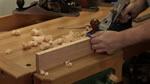 Chapter 7
Jointing Edges and
the Stopped Cut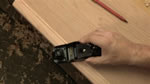 Chapter 9
Levelling Solid and
Iron-On Edge Banding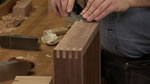 Chapter 11
Levelling End Grain
– Dovetails and Finger Joints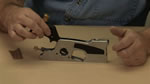 Chapter 13
Shoulder Plane
Sharpening and Set-up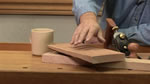 Thoughts on
Woodworking
Part 2
Evolving From
Neanderthal Times
Instructional Woodworking
DVDs
Hand Planing Techniques
Author: Hendrik Varju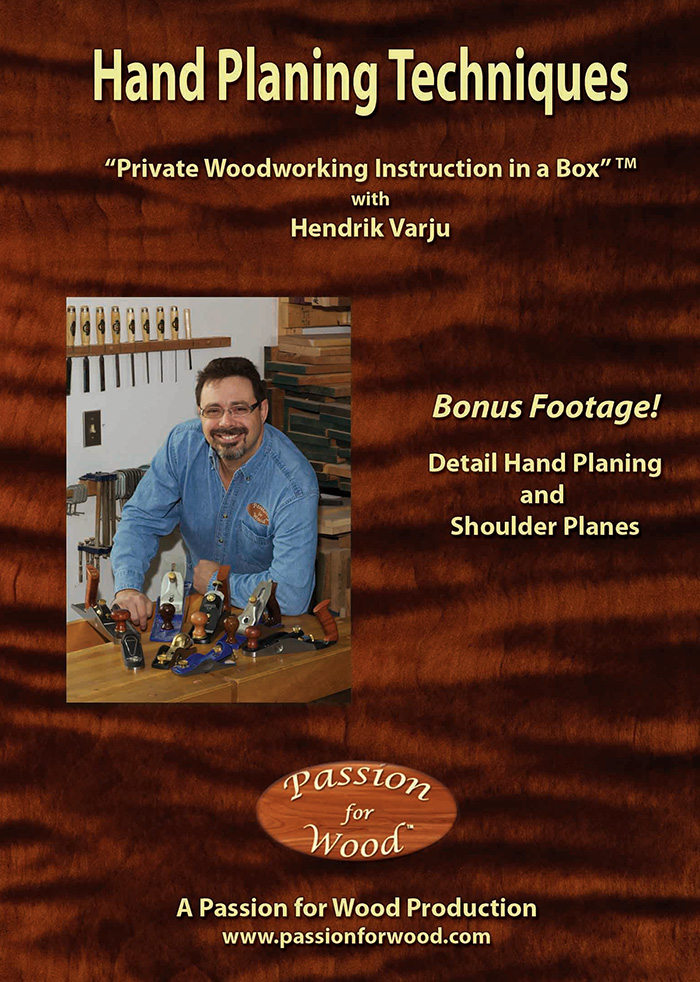 Hendrik Varju / Passion for Wood / September 2012
ISBN: 978-0-9881280-1-9
10 hours, 29 minutes on 5 DVDs
Price: Cdn. $94.95 + applicable taxes
+ shipping and handling
Ontario residents pay 13% hst. Canadian residents outside of Ontario pay hst at their own province's rate, or 5% gst if in a non-participating province. Residents outside of Canada pay no tax.

To view a clip of this DVD click the play button above.
The above video clip has been reduced in quality for online viewing. The real DVD product has a much higher resolution.


To download a PDF of this production's
Table of Contents click here.
This document will make it easier for you to navigate the video.
The Table of Contents is already included inside the DVD case, but you can download a copy here if you've misplaced it.
To read reviews and testimonials about Hendrik's DVDs, click here.
After eight successful instructional DVDs on a wide variety of topics, Hendrik decided to finally turn his attention to hand tools, releasing two new productions in 2012.  "Sharpening & Tuning Hand Planes and Chisels" is the second DVD newly released in 2012, but let us first hear about the long awaited hand planing production:  "Hand Planing Techniques".
"Hand Planing Techniques" covers a wide range of common situations where you'll need to use a hand plane in your workshop, all spread over 10 1/2 hours of footage on 5 disks.  As is Hendrik's usual style, this DVD set is a detailed step-by-step course – not the "usual" DVD fare that may have disappointed you in the past.
The DVD starts by taking you through a review of effective cutting angles, as Hendrik believes you can't use a hand plane effectively without a full understanding of cutting angles and what is appropriate for different situations.  He reinforces the discussion in Chapter 2 by giving a tear-out demonstration to show you the different results you'll get using regular pitch, York pitch or especially low effective cutting angles.
Hendrik also demonstrates how to achieve a higher effective cutting angle with a bevel-down plane by honing a super thin bevel on the back of the blade.  This allows you to achieve York pitch without substituting a York pitch frog.  You'll also be able to achieve even higher angles when needed for difficult grain patterns or gnarly species.
Hendrik also debunks a common myth about skewing a hand plane.  He explains that too many woodworkers recommend skewing your plane, which is often the worse thing you can do when planing long grain.
Two more chapters give you a step-by-step demonstration of how to set up a bevel-down and bevel-up hand plane.  He shows you in great detail how to set up a chipbreaker, how to place the blade and chipbreaker in the plane body and how to install the lever cap with the correct tension.  He also shows you how to adjust the blade for the best cutting action, perfectly centred for even cutting while cutting shavings just .001" thick or even less.
Another chapter delves into the subject of jointing edges by hand.  Hendrik proves that hand planes always result in a convex edge after multiple strokes and then shows you how to use a stopped cut to get a very straight surface in the end.  You won't hear or read much information on this area.
In Hendrik's usual methodical way, he spends no less than five full chapters taking you through a wide variety of hand planing techniques specific to project work.  A massive amount of time is spent on teaching you how to level table tops and other panels, going through the levelling of both convex and concave surfaces.  Hendrik shows you how to analyze the surface so you know where the work needs to be done.
Next, Hendrik shows you how to level both iron-on edge-banding and solid edge banding – a common task when building cabinets with plywood.  His previous production, "Working with Plywood", touched on this area, but there just wasn't time in that production to get into the super fine details.
Hendrik then shows you how to tackle a mitred frame.  The same techniques apply to frame-and-panel door frames and lots of other similar structures in furniture work.  It's amazing to see how Hendrik's previous lessons on reading the grain resurface in this production so that you can hand plane from one adjoining board to another without facing tear-out.
Hendrik also shows you how to work with end grain.  He demonstrates with joinery samples such as handcut dovetails and finger joints, where the end grain surfaces of fingers, tails and pins must be hand planed flush after glue-up.  He shows you how to use skewed cuts to your benefit, even using the hand plane in a circular motion at times.  He also gives you plenty of warnings about how these skewed cuts can cause problems as the end grain surfaces become flush to long grain surfaces.
As in all of Hendrik's DVDs, this production is full of techniques he has been using and perfecting for nearly two decades.  There is always a wonderful mix of theory, with sketches and full explanations, married with real-time demonstations you can duplicate in your own workshop.  This is the beauty of these multiple disk courses, which give you an absolutely enormous level of detail, but in a "live demonstration" format just not possible in a woodworking book or magazine article.
The most important aspect of this production, as with all the others, is Hendrik's full demonstrations done in real time.  He doesn't assume prior knowledge, so even a beginner will be able to follow along the journey.  Yet he has a knack for covering the basics while simultaneously delving into super fine points an amateur is unlikely to even consider for many years.  Hendrik has said repeatedly that hand tools have a learning curve far steeper than learning to use machines.  The learning is slow and very inconsistent when approached on your own, as the finer points are so very subtle.  While it takes years to perfect these techniques on your own, Hendrik gives you complete access not just to his techniques, but even to his most nuanced sensitivity to the craft.  This DVD course delves into the most subtle areas from which even the more experienced student will learn.
This DVD course shows you the critical importance of hand tools in fine work.  While Hendrik has always recommended that his students use machinery to complete all of the heavy "grunt work", he explains just how important the final finishing touches of a hand plane can be.  So even though hand tools might only be used for a small fraction of the time compared to table saw, jointer and other machines, hand tools complete some of the most critical steps in a fine piece of furniture.  Sometimes a hand tool is faster than a particular machining method.  At other times, hand tools are the only tools capable of the task.
Hendrik is known for his extremely long and detailed "bonus footage" sections in his instructional DVD courses and this DVD is no exception.  The bonus footage is called "Detail Hand Planing and Shoulder Planes".  In one chapter, he covers a variety of fine tasks a hand plane is perfect for, including trimming "slipfeathers" or decorative splines.  He shows you how to trim exposed dowels, how to hand plane small chamfers around a drawer front, and even how to clean up machine cut tapers.
In a second bonus footage chapter, Hendrik tackles the shoulder plane.  He shows you how to sharpen the blade and set it up precisely in the plane body so it can cut even shavings all the way across.  He then demonstrates on some tenon cheeks and shoulders after setting up the plane.  If you've ever struggled with a shoulder plane, you'll know that this plane has some unique requirements and is especially fussy to set up and sharpen.
In short, "Hand Planing Techniques" is the most complete DVD course of its kind on this subject matter.  You'll appreciate the depth of the information and the subtle details fleshed out at every opportunity.
In this must-have video, you will learn:
all about effective cutting angles and how to choose the right angle for a specific task
how different effective cutting angles determine the amount of tear-out you are likely to encounter
how to easily achieve York pitch or even higher effective cutting angles, even with bevel-down planes
about the common misconception about skewing a hand plane and when you should or shouldn't consider it
how to set up both bevel-up and bevel-down hand planes and make them perform flawlessly
how to joint edges by hand and why stopped cuts are required to prevent convex edges
how to flatten table tops and other solid wood panels
how to flush off both iron-on edge-banding and solid wood edge-banding when working with plywood furniture components
how to flatten a door frame, picture frame or other similar component, even if it is joined with mitres
how to hand plane end grain, including to flush off dovetail joints and finger joints
how to trim "slipfeathers" or decorative splines
how to hand plane fine chamfers around the perimeter of a project, such as a drawer front
how to flush off exposed dowel joinery without any tear-out or blow-out
how to clean up machine cut leg tapers with a hand plane
how to sharpen and set-up a shoulder plane to do precise work
As always, Hendrik's DVD courses are not like the usual 45 to 60 minute production you may have found disappointing in the past.  Hendrik takes you through every procedure in real time, ensuring that you fully understand the thinking behind every step.  Most woodworking videos and television shows just show you the "gist" of each technique, editing away the finer details and problems that might arise.  If you truly wish to elevate your hand planing techniques to a professional level, the details are everything.
Normally, Hendrik can only cover all of the high-level details he loves to teach in person, but he has once again succeeded at giving you personal coaching in a DVD format.  As a 5-DVD boxed set running for an astounding 10 1/2 hours, "Hand Planing Techniques" will become the leading instructional woodworking DVD in this area.  As the trademarked name says, this is "Private Woodworking Instruction in a Box" and nothing short of Hendrik's in-shop seminars and courses even comes close.
To order your DVD today, click below.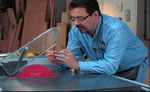 Safety Discussion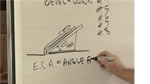 Chapter 1
Review of
Effective Cutting Angles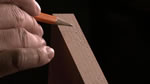 Chapter 2
Tear-Out Demonstration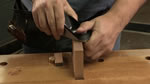 Chapter 4
Misconceptions About
Skewing a Plane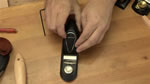 Chapter 6
Setting Up a
Bevel-Up Plane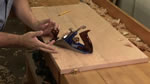 Chapter 8
Flattening Table Tops
or Other Panels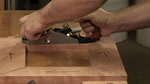 Chapter 10
Flattening a Mitred Frame
or Door Frame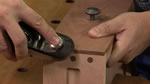 Chapter 12
Chamfers, Slipfeathers
and Other Small Jobs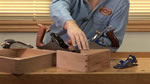 Thoughts on
Woodworking
Part 1
Fun for About an Hour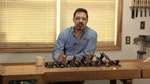 Thoughts on
Woodworking
Part 3
The Complete Woodworker